REGISTER
Register to be a new Traditional Consignor HERE. The registration fee is $12 which helps cover the costs of insurance, store rental, advertising, etc. This fee is nonrefundable and will be collected during your drop-off appointment or can get discounted from your sales. If you don't make at least $20 on your sale, you will be refunded a portion of the fee or discounted a portion of the fee. We also have special registration fee rates for children consignors. The fee is $5 per child consignor, but an adult consignor is required to have signed up. (Please contact us for more information.)

GATHER
Take a look at our List of Accepted Items to help you determine what you can consign. Gather all your clothing items together, and on a bright, sunny day (preferably by a window), check each item for stains, holes, missing buttons, faulty zippers and excessive fading or pilling. Check books for torn or marked pages. Be sure all parts are with games and puzzles, etc. (On a case-by-case basis, we may decide to allow an item to be sold that is not 100% functional. It will need to be priced accordingly, and we will make a note on the barcode tag that it is incomplete.) Also, be sure to check that your items haven't been recalled. (We may accept a recalled item that has been fixed if you can include information or paperwork that proves it has been fixed. We will make a note on the barcode tag that it was fixed per recall regulations.)

PREP
Clean and wash your items. Hang all clothing and bedding on hangers with the hanger opening to the left. You can safety pin multiple items to the same hanger or rubber-band multiple hangers together if grouping them on the same item number. It's tempting to not iron your clothes, but items that are well presented have a greater chance of being sold. It's also tempting to leave an item in its box instead of assembling it, but fully-assembled products will sell faster and for a higher price than unassembled (save the box to go with it to also help it sell better). Fix anything that is broken. Double check that everything works (change batteries if needed).
TIPS FOR CLEANING
Clothes - try OxiClean in the wash
- combine 1 part Dawn (1 Tbs) with 2 parts each (2 Tbs) of hydrogen peroxide & baking soda for a stain fighting "goo" that rivals any store-bought solutions. Apply to stains, let sit for 30 minutes to 2 hours then wash as usual.
- apply lemon juice to a stain on a white area and leave it in the sun
Toys - try a Magic Eraser to take scuff marks off shoes or remove crayon and other marks from plastic toys
Corroded Batteries - throw the corroded battery away, then dip a Q-tip into a little baking soda dissolved in water to clean the corrosion off of the terminals. Try a new battery to see if it works now .
ENTER INVENTORY
See our Guide to Entering Inventory. IMPORTANT: The system closes to inventory entry at 12:00 pm on Thursday April 13th. You may print your inventory list at any time, even after the system is closed to new inventory (printing format works best in Internet Explorer or Google Chrome, not Safari).

TAG
To avoid having ripped and/or lost tags (meaning your item may not be able to be sold) print your tags for each of your items on 60-67 lb white cardstock by logging into the system HERE. (TIP: Use Internet Explorer and disable your pop-up blocker, or use Google Chrome.) Please refer to our Guide to Tagging Items to help you in the process. Below is an example of a tag, and what each section means.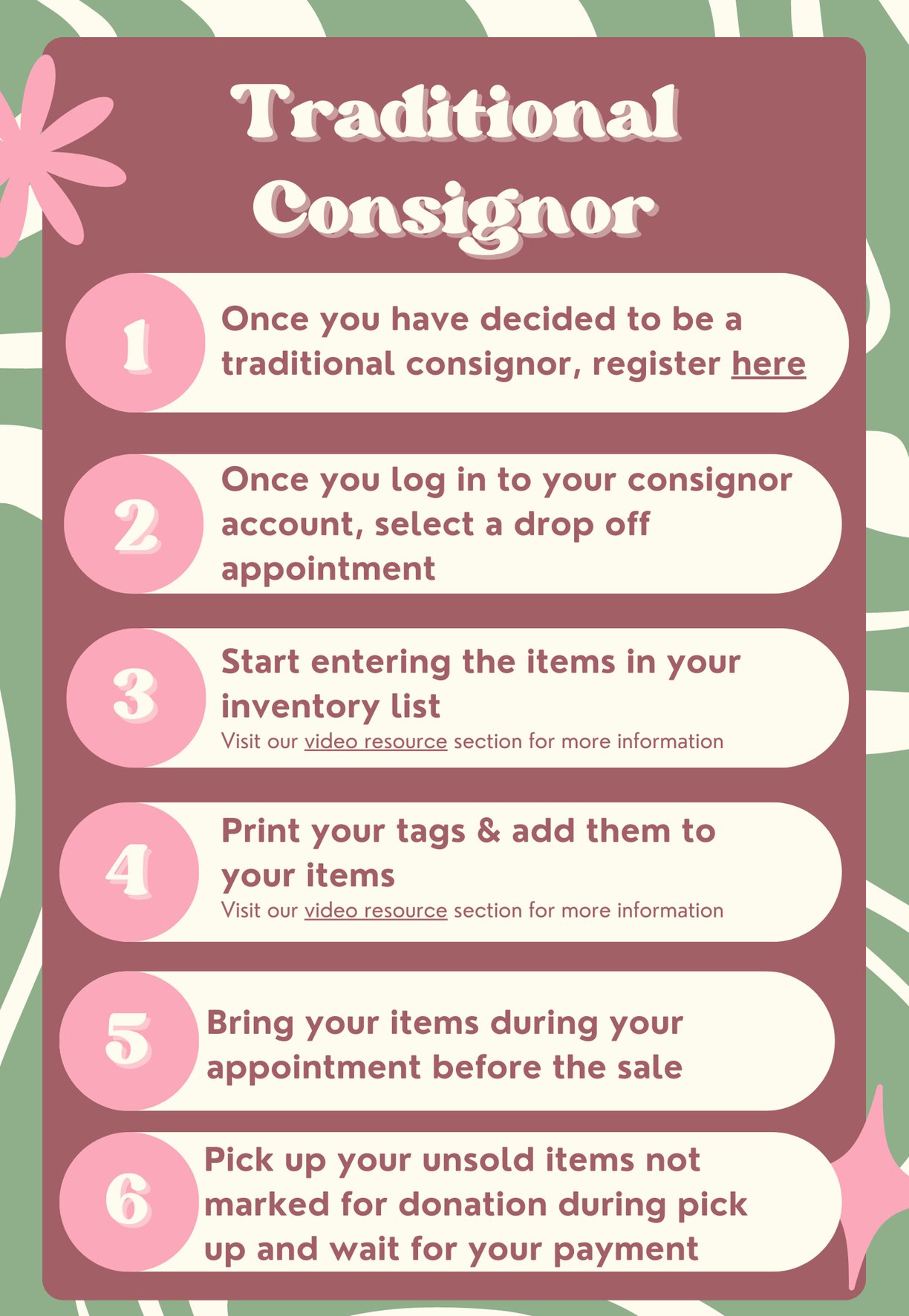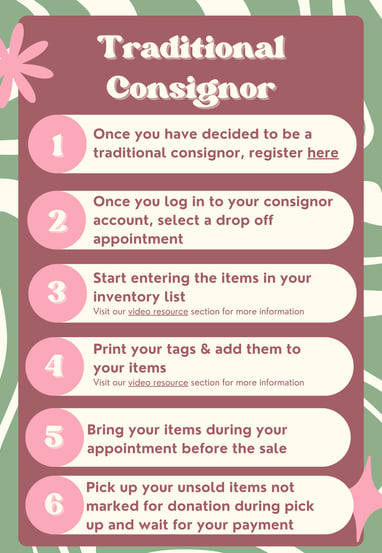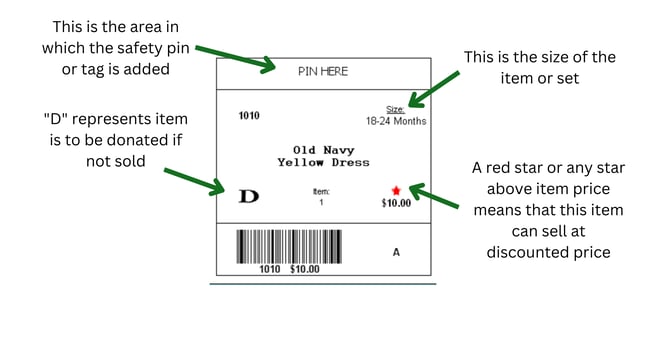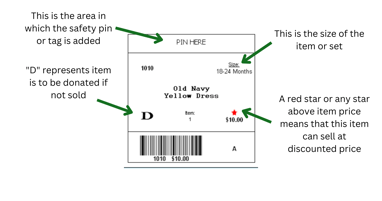 Need supplies?
We know it can be frustrating at times to have to buy supplies on your own, especially if you only need a few of each, so we're selling some of the main supplies you might need for prepping and tagging: hangers, tagging gun, safety pins, cardstock, zip ties and packing tape. We buy them in bulk so it's often cheaper than what you can find for smaller amounts. Fill out the supply request form shown below. Don't forget to hit submit or click this link.
VOLUNTEER
Register for volunteer shifts HERE to earn earliest entry to the pre-sale and make more money on your items!

DROP OFF
Sign up HERE for a time to drop off your items on Thursday April 13th Time to be announced . Everything must be tagged and ready to go on the sale floor when you drop it off. Be prepared to be there for at least 30 minutes as we inspect each item to make sure it is clean without tears or broken parts, etc. Anything that does not pass inspection will be returned to you to take home. If you have any items that are "Imperfect" (not 100% functional) or are a "Fixed Recall" (a recalled item that has been fixed and includes documentation to prove the fix), please bring them to the attention of the person checking-in your items so that they can make the appropriate note on the item's tag. Be advised that we will provide batteries as needed, but at a cost of $0.25 per battery. And while we will allow one missed recall item, we will charge $2 per (unfixed or unproven fixed) recall item after the first. Any un-fixed recall items will be returned to you to take home. For any items with value over $10, we will ask you to please show them to us and add it to your consignor agreement.

SHOP
Consignors get into the pre-sale on Friday April 14th before the public even without volunteering. Those that VOLUNTEER for one shift get in even earlier, at 10:45 am. Those that volunteer for 2 shifts get in at 10:30 am; 3 shifts get in at 10:15 am; and 4+ shifts get in the earliest at 10:00 am.

PICK UP
Plan to pick up your unsold (and undonated) items on Saturday, April 15th anytime between 4 pm and 6 pm or by arrangement. Any items not picked up by this time will be donated.

GET PAID
We like to pay our consignors as quick as possible. We can pay by check or electronically. Payment will take less than a week in most cases.