GUIDE TO ENTERING INVENTORY
- Registered consignors log into the MySaleManager Item Entry & Tag Printing page here.
- From the Consignor Inventory Menu (pictured on the right), select the first link, "Add Items", then choose either 'Mobile version' (if using a phone or tablet), 'PC/Laptop version' or 'Mobile Voice Entry'.
(This Guide will walk you through the PC/Laptop version.)
- On the next page (pictured below), you will enter the information for each of your items: Category, Size, Description, and Price.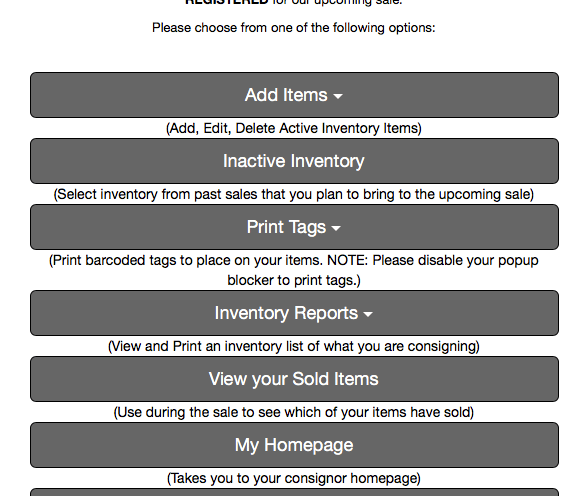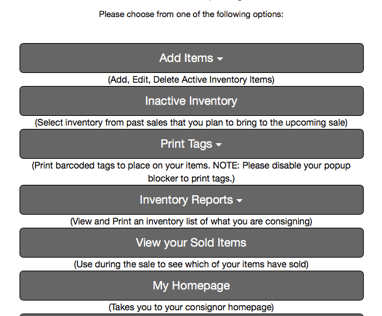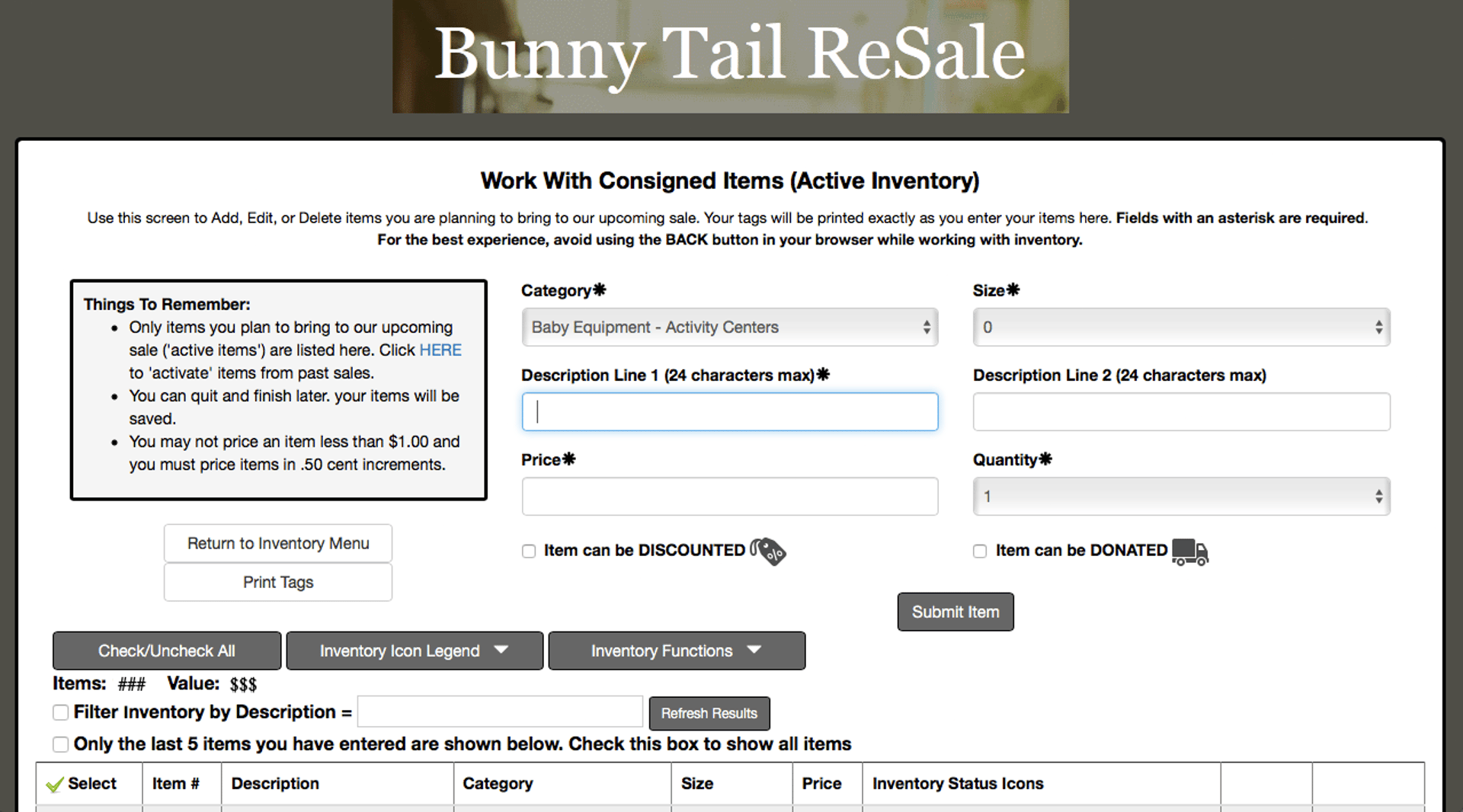 CATEGORY
There is a long list of categories to choose from such as "Baby Equipment - Baby Carriers" or "Toys - Puzzles". Try to choose the category that best fits your item, and if you can't seem to find the right one, you can always choose "Miscellaneous" from under one of the main category types. We will use these categories to help arrange items on the sale floor as we will be organizing by category rather than by consignor.
SIZE
There is also a long list of sizes to choose from, for example "Newborn" or "4T". Please choose the size that is on the label of your clothing. For this reason, only clothes of the same size may be grouped together as one item. You may estimate the size if none is listed on your clothes; and if your size is not listed, you can select "See Description." For non-clothing items, choose the "Leave Blank" option in the Size list.
DESCRIPTION
Enter a brief description of your item to let the shopper know exactly what it is you are selling and also to help us rejoin your item and it's tag should they get separated. Use Line 2 if additional space for your description is needed.
PRICE
Now you will decide how much you would like to sell your item for. This will be the price that the shopper will pay. To determine what price to set, try to imagine what you would be willing to pay, or check the sold listings for similar items on eBay to see what other people are paying. Remember that prices should be set at about 25-50% of the original retail price. Also, keep in mind that the lowest price you may set for an item is $1, and, above that, you may price your item in increments of $0.50. For example, you may price an item at $1.50, but not $1.75.
QUANTITY
Most often, you will leave this as 1, but if you have multiples of the same item that you will be selling separately and wish to have identical tags, you can change the quantity to the number you are selling and it will create that many identical item entries.
Item can be DISCOUNTED
Check this box if you wish to have your item sold for up to 75% off the listed price on the second day of the sale. We recommend doing this because it's much better to get half of your marked price than to have to pick up your unsold items at the end of the sale and take them back to your house (making nothing). We will assign a portion of the second day sale event to sell items at 50% off if marked. If item does not sell, we will give it a second chance at the last hour and half to see if goes for 75% off. This way the chances of selling and making some money are greater.
Item can be DONATED
Check this box if you wish to have your item donated to our selected charity at the end of the sale if unsold.
SUBMIT
Review your entry one last time and then click the Submit button to enter the item in your active inventory. You will then see it show up below your item entry section with the next sequential Item #.

TIPS FOR USING THE SYSTEM
- The system will remember the Category and Size you entered for your last item as well as the Price and whether you want to Discount or Donate. To make it easier on yourself, try to enter items from the same category and of the same size in order to use this feature and save yourself time. Be sure to double check everything before submitting.
- If you need to change something after you've already submitted it, you can find and EDIT the item in your inventory list at the bottom of the page. If the item you need to edit was NOT one of the last 5 items you entered, you will need to click on the box in the top section of the page, where it says "Only the last 5 items you have entered are shown below. Check this box to show all items." This will show you your entire active inventory list.
- Once you've found your item click on the EDIT button which will open a new mini-window. Now you can edit any of the item's information: Description, Category, Size, Price, Discount, or Donate. Once you have it just the way you like it, click on the Submit button to save your changes.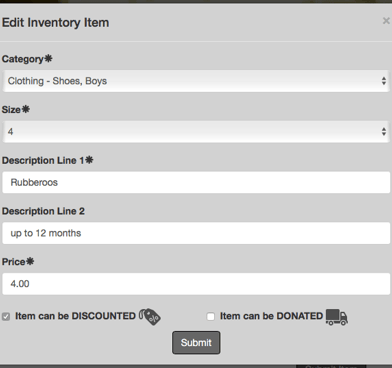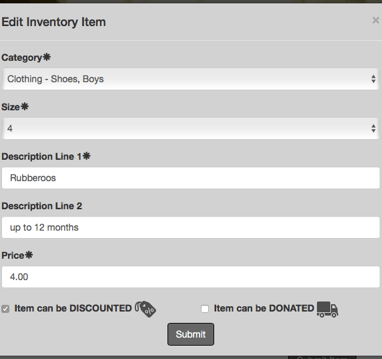 Here is how all of your information will appear on your tag: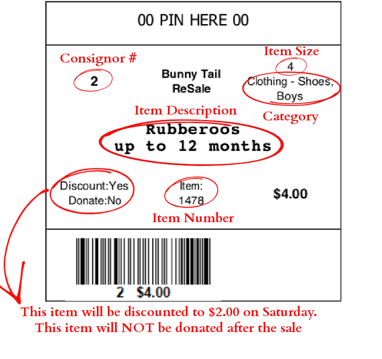 Check for Product Recalls
Please utilize the Recall Finder or check with the U.S. Consumer Product Safety Commission. Consignors are responsible for ensuring that their items have not been recalled.